Description
Description
Nerve Shield™ is a powerful, comprehensive combination of herbs, amino acids, vitamins, and other nutrients that target your peripheral nervous system.*
Key Ingredients
B-Vitamins are important to the structural integrity of lipids found in the myelin sheath.*
Alpha Lipoic Acid supports normal nerve function.*
Acetyl L-Carnitine supports healthy nerve fiber structure.*
Phosphatidyl Complex contains lipids – compounds that comprise 76% of the myelin sheath.*
Phellodendron and Cang Zhu Atractylodes, both traditional herbs native to China, facilitate the movement of qi throughout the body.*
Chinese Skullcap & Turmeric have potent antioxidant properties and promote healthy immune system function.*
Supplement Facts
Science, Quality & Formulation
B-Vitamins
Vitamins B1, B6, B12, Folic Acid and Phosphatidyl Complex are essential to the structural integrity of cell membranes.*
Alpha Lipoic Acid
Alpha lipoic acid supports healthy circulation and has antioxidant properties which maintain cell health.*
Acetyl L-Carnitine
Acetyl L-Carnitine supports nervous system health.*
Phosphatidyl Complex
Phosphatidyl Complex contains lipids – compounds that comprise 76% of the myelin sheath.*
Phellodendron  Extract and Cang Zhu Atractylodes
Phellodendron and Cang Zhu Atractylodes—both both traditional herbs native to China, facilitate the movement of qi throughout the body.*
Chinese Skullcap & Turmeric
Chinese Skullcap & Turmeric have antioxidant properties and support healthy immune system function.*
Formulation Philosophy:
The Redd Remedies Difference:
Quality, purity, and potency guaranteed through expiration
All-natural ingredients
100% Satisfaction Guarantee
4-Point Quality Control
Every natural health solution from Redd Remedies is produced with 4-point quality control
We verify every raw material vendor, every raw material used, every step of the manufacturing and packaging processes, and every product specification for each batch – including testing by industry-leading, independent laboratories.
Vendor Qualification
Every vendor must be verified as qualified before Redd Remedies purchases any raw materials from them.
We believe this first step to be the most important. We only work with vendors who:
Respect the traditional use of the herb
Harvest and process in a fashion consistent with that tradition
Verify that the ingredients we purchase from them are obtained in a manner that assures global protections for all elements involved in the production and gathering processes: the environment, the people and the survival of wild herb plants.
Completing this first step takes us a long time, because we are building relationships in the process to gain confidence that the herb, essential oil, mineral or other ingredient will accomplish the goal we intend for it in our formulas. By the end of this first step, we have built trust and confidence in our supplier
All Raw Materials Must Be Verified
Every raw material included in a Redd Remedies product is verified for identity, purity and potency.
Identity
We ensure that what is on the label is in the bottle, using established and accepted testing methods that are most suited to each specific raw material. We obtain and check certificates of analysis, including full disclosure of potential food allergies and GMO status.
Purity
All the raw materials we use are screened to assure that they are free of potential contaminants.
Potency
We confirm that each Redd Remedies capsule or tablet contains the specific dosage of ingredients listed on the label, using established and accepted testing methods.
Manufacturing Process Quality Control
Each step of the manufacturing process is double-checked and verified.
From choosing the proper bottle, lid and seal to inspecting and approving the types of machines used in the process prior to a production run, we ensure that Redd Remedies produces only the highest quality natural products.
Throughout manufacturing processes, we ensure that the weights of capsules and tablets are verified, color is consistent, and standard operating procedures are followed.
Finished Goods Testing
Every batch of natural health solutions produced by Redd Remedies is rigorously tested before we deliver it to our customers.
Product Specifications
Purity, potency and label claims are verified for each batch of Redd Remedies natural solutions. We test for heavy metals, gluten and microbial plates, and for pesticide residues we test using European Union standards, which are more comprehensive and stringent than U.S. standards.
Disintegration and Dissolution
We verify that our capsules and tablets break down within the specified time frame, to ensure that they deliver our natural health solutions efficiently and effectively.
Independent, Third-Party Labs
Redd Remedies products are tested by industry-leading, third-party laboratories that understand and are familiar with the complexities of dietary supplements and botanical analysis.
Customers Also Bought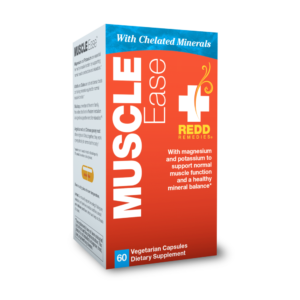 Muscle Ease™
A gluten-free natural supplement to support healthy muscle function*
Healthy muscles matter. Taking care of them will strengthen and support your body, so you can enjoy healthy activity and restorative relaxation. To keep muscles strong, they need a good supply of nutrients that help them contract and relax – nutrients that are not always well supplied in a typical American diet. Sodium and calcium are necessary for muscle contraction, and potassium and magnesium are required for muscle relaxation.
Muscle Ease™
is a magnesium-based formula that includes: • Magnesium rice protein chelate, a uniquely absorbable form of the mineral • Magnesium glycinate, which is chelated or bonded to glycine, a main calming neurotransmitter
Muscle Ease™
also delivers potassium citrate, along with a trace mineral blend supplied by organic alfalfa and organic dulse – whole foods from land and sea. Herbs from Chinese and Eclectic traditions are included to support healthy muscle function and calm and renew the nervous system – which is important, as muscle contractions begin with a signal from the nervous system.
Muscle Ease™
helps you achieve healthy muscle function with a simple, two-capsules-a-day delivery of natural nutrients.*