Curcumin T4™ Capsules - 3 Pack
by Redd Remedies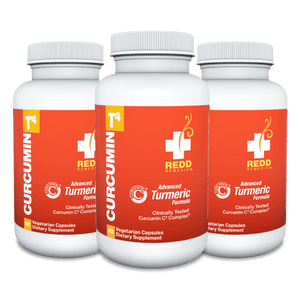 With Curcumin T4™, no longer must you rely on a "one-size-fits-all" approach to your challenges. Our special blend of Ayurvedic and Traditional Chinese botanicals works holistically with your body's individual needs to create balance and promote harmony between the body and the mind. By helping your mind and body adapt to life's constant stressors, Curcumin T4™ delivers – leaving you recharged, invigorated and ready to face the day's physical and emotional challenges.
Curcumin T4™ is the innovative and powerful approach that you have been waiting for. Designed to support your most vulnerable areas, it also works to establish balance between your body and your mind. 
Curcumin T4 Targets 4 Areas
Target 1: Joint Support Curcumin C3 Complex® is a patented turmeric extract that represents turmeric roots' natural ratio of curcuminoids. By harnessing the true nature of this most treasured Ayurvedic botanical, Curcumin C3 Complex® supports healthy joint function, healthy immune system function, and supports healthy liver function.*
Target 2: Muscle Support Corydalis, Phellodendron and Cang Zhu Atractylodes are rooted in the time-honored practice of Traditional Chinese Herbalism. In this holistic perspective, corydalis, phellodendron and cang zhu atractylodes support the flow of energy throughout the body, invigorate the blood and harmonize the body with the mind. This trio of herbs support healthy muscle function by promoting balance and efficient delivery of nutrients.*
Target 3: Stress Stress and discomfort are intertwined. Ashwagandha (Withania somnifera), is one of the most revered plants in the traditional Ayurvedic System. As an adaptogen, Ashwagandha supports a healthy stress response and helps the brain and body adapt to the many stresses in your daily life.*
Target 4: Brain Ashwagandha and Corydalis both address the brain's active role in the way you perceive the physical world around you and how that affects the way that you feel. Harmonizing the mind's perception of daily demands with the physical body can create a more enjoyable experience of life.

*Disclaimer: These statements have not been evaluated by the Food and Drug Administration. This product is not intended to diagnose, treat, cure, or prevent any disease.