Gouch!™ 60 Capsules - 3 Pack
by Redd Remedies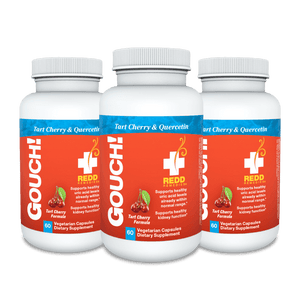 Suffering from excess uric acid? You've likely experienced:
Agonizing pain in your feet or other joints 

Intense swelling and redness.

An inability to enjoy restful sleep due to acute joint discomfort. 

The emotional turmoil of giving up some of your favorite activities, because you hurt too much. 
Excess uric acid doesn't just affect your joints. It affects your whole life! 
Gouch!™ was formulated to fight the agony of excess uric acid… and help you take back the pain-free life you deserve. 

For scientific information on safety, click here. 
*Disclaimer: These statements have not been evaluated by the Food and Drug Administration. This product is not intended to diagnose, treat, cure, or prevent any disease.