Joint Health Advanced™ 60 Capsules - 3 Pack
by Redd Remedies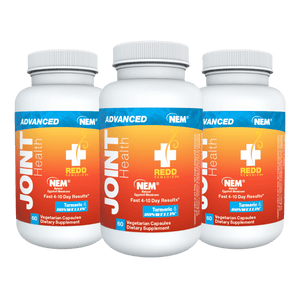 Supports joint health and flexibility
Restores youthful movement
Promotes joint comfort and range of motion in as little as 4–10 days
Supports healthy levels of type II collagen*
Maintains healthy synovial fluid that lubricates the joints*
Helps prevent cartilage breakdown
Provides a natural source of type I collagen, glucosamine, chondroitin, hyaluronic acid and calcium – nutrients that are essential for healthy joints*
Gluten-free and Non-GMO ingredients meticulously tested for over 500 different toxins including mercury, lead, and pesticides.
Why pay for glucosamine, chondroitin, collagen, hyaluronic acid, MSM, and an anti-inflammatory, when you can get the benefits of all 6 and more in 1 formula? 
Joint Health Advanced™ not only saves you the hassle of finding multiple supplements and the cost of separate purchases -- it also saves you time. 

With 3rd party studies showing improvement in joint comfort and flexibility in as little as 4-10 days, it's both affordable and effective.
By harnessing the power of NEM® in an all-natural formula created by our very own Master Herbalist, you can experience the benefits of at least 6 different supplements in 2 small capsules. 
*Disclaimer: These statements have not been evaluated by the Food and Drug Administration. This product is not intended to diagnose, treat, cure, or prevent any disease.