Being outside has always been synonymous with the summer months. However, this joy doesn't extend to everybody. Those whose sinuses suffer from the increased pollen count have found themselves stuck indoors while others have enjoyed the warmer temperatures. 
The rest of us are now starting to experience a sliver of that frustration. By living in these strange and uncertain times, even those of us who don't suffer from seasonal allergies are finding ourselves inside much more often!
Ironically, it is perhaps now more than ever that we need to receive the health-boosting properties that being outside brings us. 
Here's why simply stepping outside your home can really help! 
Sunlight has the ability to improve your mood!
Couldn't we all use a boost in our morale right now? Well, sunlight may just give it to us!
Lockdown rules are different everywhere, and we're not suggesting you break the current rules of your area. But, if you are still able to step outside into the sunlight, we implore you to do so. 
Exposing ourselves to sunlight is believed to increase the brain's production and release of the hormone serotonin. This hormone boosts our ability to focus and lifts our overall mood! This is one of the contributors to the phenomena of seasonal depression. In months with less sunlight, we are more likely to experience lower moods. 
Darkness does still have its place, though. Dimmer lighting helps boost the production and release of a different hormone called melatonin. This is the hormone that helps us sleep. Melatonin production can be stunted by the light we receive from computer screens, which is why (even late at night) we may have trouble promptly falling asleep after scrolling through our phone. 
Sunlight may also have a hand in boosting your immune system.
We've previously discussed how every immune system is unique and requires different levels of care, but generally speaking, we do think it's important to highlight how advantageous sunlight can be to your body's defense system.  
When your body is exposed to sunlight, it doesn't just produce serotonin, it also starts producing vitamin D. 
Traditionally the role of vitamin D was to boost bone health. But a manuscript published in the US National Library of Medicine, discusses vitamin D's relationship to immunity. They came to this conclusion:
"Vitamin D has important functions beyond those of calcium and bone homeostasis which include modulation of the innate and adaptive immune responses. Vitamin D deficiency is prevalent in autoimmune disease. Cells of the immune system are capable of synthesizing and responding to vitamin D. Immune cells in autoimmune diseases are responsive to the ameliorative effects of vitamin D suggesting that the beneficial effects of supplementing vitamin D deficient individuals with autoimmune disease may extend beyond effects on bone and calcium homeostasis."
It's not just the sunshine that can help… it could be
greenspace
…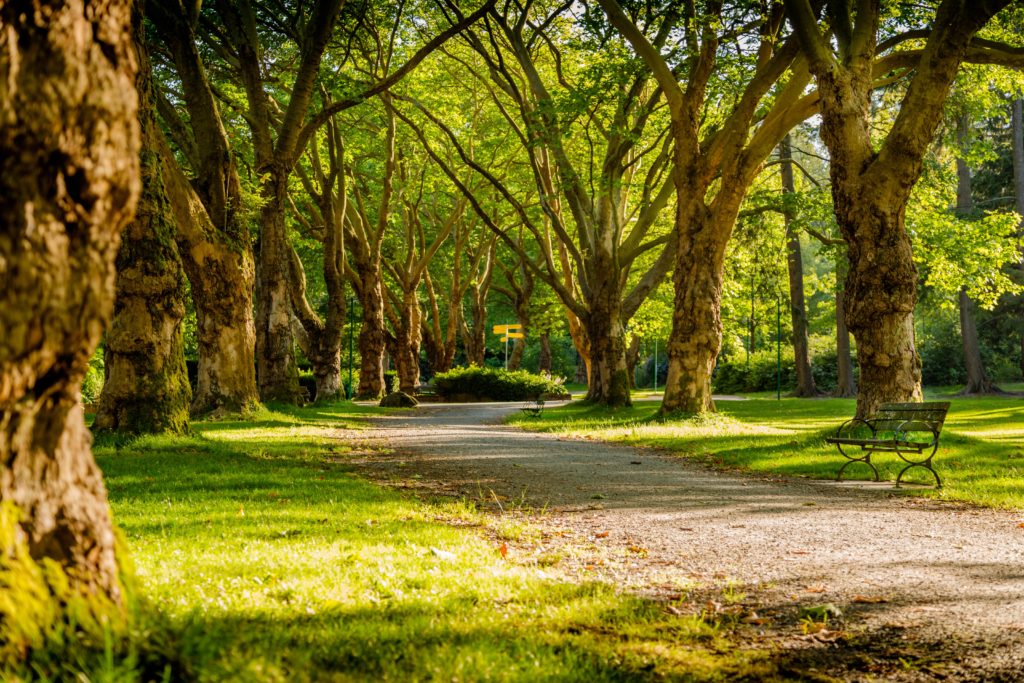 While sunlight plays a big role in how beneficial being outside is, it can't take all of the credit. 
In 2018, the University of East Anglia published findings claiming that: "Populations with higher levels of greenspace exposure are also more likely to report good overall health — according to global data involving more than 290 million people."
The team defined the term greenspace as: "open, undeveloped land with natural vegetation as well as urban greenspaces, which included urban parks and street greenery."
Overall, their findings concluded that exposure to greenspace reduces the risk of type II diabetes, cardiovascular disease, premature death, preterm birth, stress, and high blood pressure. 
While they do not yet know exactly what part of this exposure is responsible for these results, there are several theories, perhaps the most interesting being that those who spend more time outside are exposing their immune system to a more diverse group of natural bacteria, which could benefit the immune system and reduce inflammation. 
This is supported by work being done in Japan. Shirin yoku, also known as forest bathing has been a popular therapy for many years. Much of their research suggests that phytoncides may be the key to its effectiveness. Phytoncides are organic compounds released naturally by trees that contain many powerful antibacterial properties. By exposing ourselves to these, we are likely boosting our health!
For some of us, it's not as easy as just stepping outside the door. 
Many suffer from seasonal allergies, so spending time outside to boost our health can feel counter intuitive. With the pollen count rising, it's easy to feel that spending time outside could do you more harm than good. 
While we highly encourage spending time outside, it's also important to make sure that your body is properly equipped for it. 
If seasonal allergies are keeping you from the natural health-boosting properties of the outdoors, then get the support you need with our Adult Sinus Support™! It's a gluten-free natural supplement that supports sinus and bronchial health with a blend of time-honored botanicals. Click here to start preparing your body for the health-boosting benefits of the great outdoors!
Comments are closed