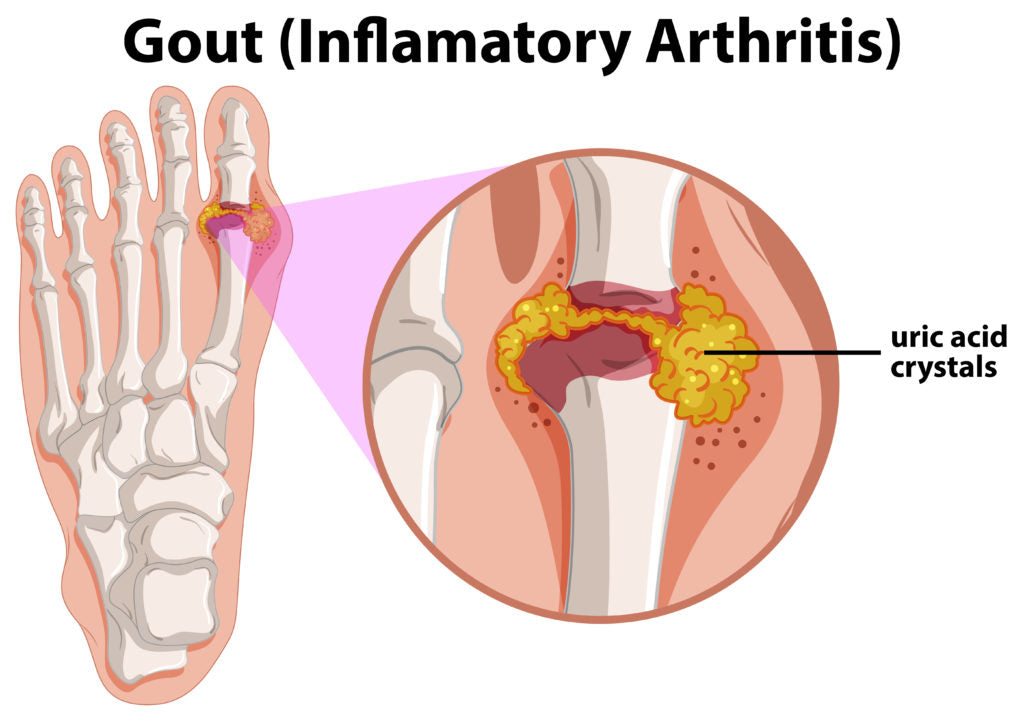 If you've experienced this pain, you'll know there's nothing like it. 
It all happens so suddenly. You get ready for bed the same way you always do, and drift off to sleep.
Yet when you wake up, everything is different. 
Acute pain. Swelling. Redness. All stemming from your big toe. The sensation is so dreadful you can hardly pull your duvet over your feet. 
You didn't have any prior injury… what on earth could have happened?
This is the world that those suffering from uric acid build-up have to live in. 
A natural body process spins out of control. 
Uric acid doesn't sound friendly, but it is naturally produced by the human body. 
It's a heterocyclic compound made of carbon, nitrogen, oxygen, and hydrogen – a product of our body's metabolic response to breaking down purines. 
According to Arthritis Health, there are two types of purines. The first are endogenous purines, and are found in the nucleus of any animal or human cell, and are naturally formed by the body.
The second type of purines are exogenous purines. They're a chemical compound found in food and drinks many of which are part of a balanced diet.
So, should we avoid exogenous purines?
That's not feasible, or recommended. They appear in far too many foods. However, there are certain foods that contain concentrated levels of purines, such as seafood and organ meats. They are also found in beer. 
We should be mindful of these purine-rich foods that we eat, but again, that's not the whole solution to a build-up of uric acid. 
This is incredibly important to understand:
A uric-acid build-up is NOT the problem. It's a symptom of a problem…
Your body takes responsibility for removing uric acid.
The presence of uric acid in the body is natural. The problems occur when the body doesn't clean itself of uric acid. 
The body removes most uric acid through urination. Urine is the waste collected from the bloodstream via the kidneys. 
Your blood passes through your kidneys several times a day. The blood is filtered, waste is eliminated, and clean blood goes back through your body. 
Uric acid is part of the waste that gets removed. Or at least, it should be… 
Your problem doesn't start with uric acid. Your problem likely starts with your kidneys. 
Uric acid build-up occurs when the kidneys are not functioning to the extent that they should be. The blood has not been filtered properly, uric acid stays in the body, and builds up forming crystals around joints like the big toe. 
If the kidneys are not maximizing their potential, uric acid can build up very quickly. Even if someone's bodily systems are firing at 100%, you would only see about 10% of all uric acid being removed a day. 
Remember, that uric acid includes not just the deposits from consumed purines, but also the purines your body will be producing naturally. 
Don't take diuretics!
Those suffering from uric acid build-up often make this mistake. 
There is an assumption that if their kidneys are not able to clean their blood thoroughly that stimulating them to cause more frequent urination will help remedy the problem. As a result, they start taking diuretics to stimulate their bladder activity. 
This is not how you should treat your body.  When you are tired or in this case when one of your organs is "tired", the last thing you should do is stimulate or push it into action.   Most likely, it will only make things worse as taking diuretics actually increases the amount of uric acid in the bloodstream. 
Short cuts like these will only make the excruciating pain worse in the long run.
The steps you take won't make any difference to your suffering unless you also do this… 
Maximize your kidney function. 
It is the best way to start alleviating uric acid buildup and the pain that comes with it! 
How do you do it? Well, you could start by giving it the nourishing care it deserves by purchasing Gouch!
We designed our award-winning blend of herbs and antioxidants with the express intent of helping you maintain healthy kidney function!
How do we do this? This incredible all-natural formula contains ayurvedic herbs such as boerhavia root extract that nourish, rejuvenate, and renew your kidney function. Quercetin and cherry fruit extract promote and support healthy uric acid levels by reducing uric acid production, while ginger root extract supports healthy immune system function and provides circulatory support!
Click here to purchase Gouch! and finally start working toward a life free from the excruciating pain of excess uric acid.
*Featured Image Designed by brgfx / Freepik
Comments are closed