Joint Help for Your Canine Companions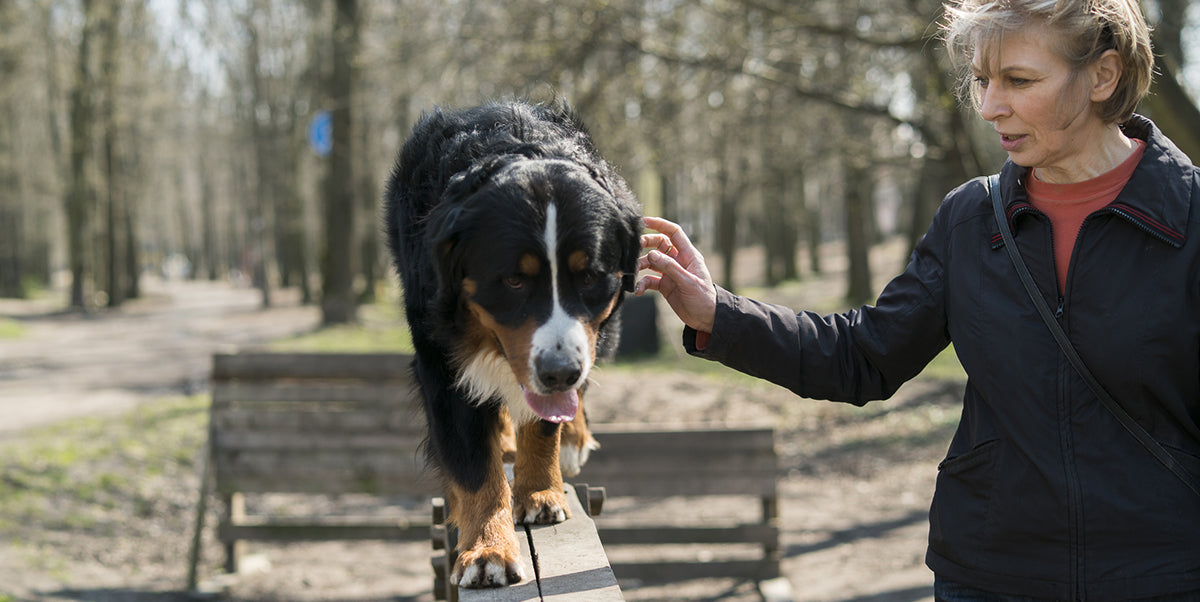 Pet owners suffer when their pets struggle because of joint issues. Dogs who have trouble standing up, limp or walk off-balance are showing signs of joint distress.
Dog Joint Pain – A Common Canine Condition
Joint stiffness, lameness and inflexibility effects an estimated 20% of all dogs and 80% of geriatric dogs (8 years old and up). Hip dysplasia is the most common condition leading to chronic localized inflammation, but loss of the structural integrity of cartilage and biomechanical stress can lead to joint problems that may also affect a dog's shoulder, knee, and elbow joints. These conditions can progress to osteoarthritis and ultimately, irreversible joint damage.
Typically, joint problems in dogs are addressed with products to ease symptoms, such as nonsteroidal anti-inflammatory drugs. But long-term use of NSAIDs in canines causes safety concerns, much as it does in humans.
Redd Remedies' RE-NU™ for Pets, formulated with Membrell® Original NEM® – natural eggshell membrane, has been clinically proven to provide relief for dogs whose joints cause them pain, limited mobility and diminished quality of life.
What is Eggshell Membrane?
Eggshell membrane is a bilayered material composed primarily of fibrous proteins found between an egg's calcified shell and the albumin or white of the egg. It is a natural, whole-food ingredient that contains all the major nutrients joints need to thrive: chondroitin, hyaluronic acid, collagen and other glycosaminoglycans. ESM's NEM is the only eggshell membrane ingredient that has had multiple published human studies done on its safety and efficacy for joint health. We use it in RE-NU for Pets, as well as in our Joint Health products for humans.
NEM® has been Proven to be Helpful for Dogs
Because NEM has been shown to offer fast and effective support for joint health and comfort in humans, a scientific study was undertaken to determine its safety and effectiveness for canines affected by suboptimal joint function. The multicenter, randomized, double-blind, placebo-controlled study was conducted by administering a once-daily dose of 6 mg/lb of NEM or a placebo.
The study was completed on 46 dogs that were selected based on mild to moderate persistent suboptimal joint function. The dogs were privately owned, ages 3 to 14. Eight veterinary clinics in the St. Louis, Missouri, area were involved in the study. Two different assessment tools were used: the owner-administered Canine Brief Pain Inventory (CBPI) and the Veterinary Canine Scoring Assessment. Changes to serum levels of a cartilage degradation biomarker (CTX-II) were also evaluated through blood tests. Assessments were gathered one week after baseline was established and again at six weeks.
Significant Improvement
After only one week, there was significant improvement in the dogs receiving NEM compared to the dogs in the placebo group. The CBPI ratings for joint function showed 22.5% improvement, and the joint function ratings were 19.4% improved. The CBPI indexes for quality of life also showed "significant treatment response" at the end of the study. The VCSA assessments showed significant improvement in pain at 6 weeks, in the experimental group compared with the placebo group.
Blood tests revealed that there were significant improvements in CTX-II levels, the cartilage degradation marker. A 47.9% improvement led researchers to conclude that NEM produced "a profound chondroprotective effect."
RE-NU for Pets
In addition to NEM, our RE-NU for Pets formula includes natural calcium and non-GMO brewer's yeast.
For more information on the study discussed in this blog, visit here.
If you have questions or comments, please send us a message through our Facebook page. Sign up for our newsletter at REDDRemedies.com and Like us on Facebook to get discount offers and updates.