The Five Essential Oils That Help Soothe a Sore Throat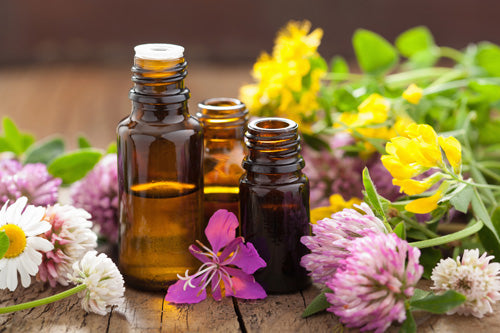 We reveal five essential oils that are not only safe to be consumed internally, but also help comfort one of the most common allergy and cold symptoms… the sore throat.
This article reveals:
The five essential oils that can help comfort your throat

The different cooling effects of an essential oil blend vs. menthol

The particular kind of honey that can fight a dry cough
While a sore throat and a cough are hardly cause for alarm, they certainly aren't pleasant.
The mild cases are irritating, but the more severe can cause simple acts like eating and talking to become painful.
What exacerbates these problems is that so many OTC lozenges are barely more than glorified candy.
As a result, you're left feeling stuck in a painful situation. That's why we're using this blog to reveal our favourite natural remedies for soothing a sore throat and fighting a persistent cough!
The benefits of essential oils
Essential oils? Aren't those used for making your pillow smell good?
Well, yes! But various essential oils actually contain a multitude of benefits including: relieving stress, boosting energy, reducing anxiety, improving concentration, and much more!
Despite this, those who are familiar with essential oils may be perplexed at the thought of using them internally.
Don't worry; while most essential oils should not be consumed internally, a number of them are absolutely safe. We use a selection of these in our Essential Oil Cooling Blend, created by our Master Herbalist, Stacey Littlefield. This powerful blend supports clear and open airways and delivers a cooling, soothing sensation to your throat.
So, what makes the cooling effect of essential oils more effective than the menthol of a generic cough drop?
Cooling a sore throat
Most cough drops offer 2mg - 5mg of menthol per dose. However, this menthol is an isolate. This means that the menthol has been broken apart from its original compound using chemical solvents.
What makes our remedy far more effective is that our essential oils each naturally contain menthol… plus, hundreds of beneficial nutrients!
Eucalyptus

; can help clear a cough and support respiratory health
Camphor

; helps relieve respiratory congestion
Spike Lavender

; decongestant with antiviral properties
Pine

; helps to clear the respiratory tract of phlegm
With just a dash of added menthol, the natural constituents of these essential oils offer a far more balanced and pleasant experience than your regular cough drop!
The honey needed to fight your cough
We recently busted the myth that local honey can entirely relieve you of seasonal allergies… but that doesn't mean it can't help.
Honey, providing it really is honey and not a knock-off, actually has quite a few medicinal benefits.
While it is not technically a cough suppressant, it is both a demulcent and an emollient.
A demulcent is a substance that can help relieve irritation and inflammation by forming a protective film over our mucus membranes. An emollient is something that is able to both soften and soothe skin!
In short, it can provide effective relief for both a sore throat and a dry cough. As a good rule of thumb, the darker the honey is, the better it is for a dry cough.
That's why we recommend buckwheat honey. It's been found to be particularly effective against a nighttime cough, which helps alleviate the aggravation of a poor night's sleep. And don't worry; it's not part of the wheat family so it is still gluten-free.
The best natural remedy for a sore throat and dry cough
We've harnessed the power of our Essential Oil Cooling Blend in our very own Throat Drops, and employed the throat-comforting properties of pure buckwheat honey in our Throat & Bronchial Syrup™.
Together, they make our most effective natural remedy for a sore throat and a cough: The Throat Soothing Bundle. To make matters even better, this bundle is available at a 15% discount for a limited time only!
Here's a little more info on the all-natural formulas that make up our Throat Soothing Bundle!
Throat Drops
Is the irritation of a sore throat distracting you from the important things in life?
Then why not try our potent, all-natural alternative to weak and ineffective cough drops… Throat Drops. While their names might sound similar, they couldn't be more different.
COOL AND SOOTHE A SORE THROAT

Our blend of five key essential oils and herbs offer a far more potent cooling effect than the menthol found in a regular cough drop.

REJUVENATE A TIRED VOICE

The inclusion of medicinal herbs helps us support your entire respiratory system!

NON-GMO, GLUTEN-FREE, VEGETARIAN

Our Throat Drops are also made without artificial colors, and include only natural flavors!
Relieve your irritation and get back to focussing on what matters with Throat Drops.
Throat & Bronchial Syrup™
When the simple act of breathing or talking becomes a pain, use the power of buckwheat honey and other healthy botanicals with our Throat & Bronchial Syrup™!
This all-natural formula:
SOOTHES YOUR IRRITATED THROAT

Buckwheat honey and ivy leaf combine to provide the throat and bronchial passages with long-lasting comfort.
HELPS YOU BREATHE FREELY AND EASILY

Our medley of mullein and thyme promote normal respiratory function and support the mucus membranes in the respiratory tract.
CAN BE USED ANYTIME

Neither sedative nor stimulating, this product can be used whenever your throat is feeling sore.
Whether it's the middle of the night or the middle of the day, help soothe your sore throat with our Throat & Bronchial Syrup™!
Purchase our Throat Soothing Bundle today and comfort your throat at the best price with only the purest ingredients!