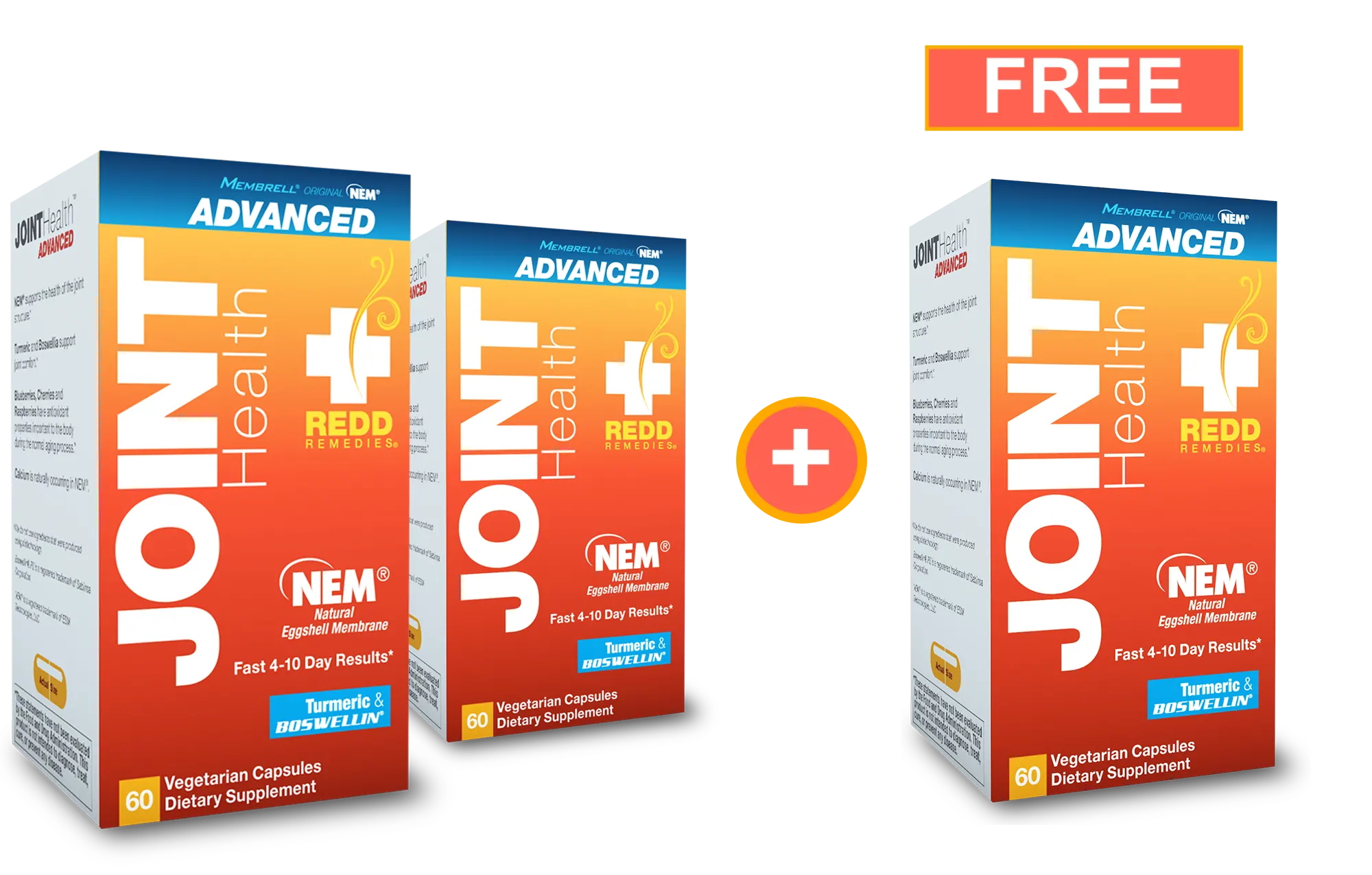 Joint Health Advanced™ - Buy 3, Get 1 FREE
With results in as little as 4-10 days, our 5-in-1 joint relief supplement is revolutionizing the supplement industry.
Why pay for glucosamine, chondroitin, collagen, hyaluronic acid, MSM, and an anti-inflammatory, when you can get the benefits of all 6 and more in 1 formula?

Joint Health Advanced™ not only saves you the hassle of finding multiple supplements and the cost of separate purchases -- it also saves you time.

With 3rd party studies showing improvement in joint comfort and flexibility in as little as 4-10 days, it's both affordable and effective!
Why choose Joint Health Advanced?
Clinical studies show results in as few as 4-10 days!

 
The benefits of at least 6 different supplements in 1 formula.

 
Formulated by a Master Herbalist.

 
Gluten-free and Non-GMO ingredients meticulously tested for about 500 different toxins including mercury, lead, and pesticides!

 
Super-ingredient NEM harnessed properly in a formula designed by a Master Herbalist

 
Improve joint comfort and flexibility, maintain cartilage and tissue, reduce inflammation and much more!

 
Joint Health Advanced™ brings you joint relief in as little as 4-10 days by harnessing the power of NEM® in an all-natural formula created by our very own Master Herbalist. You can experience the benefits of at least 6 different supplements in 2 small capsules.
Earliest Delivery: 2-5 business days
Secure & Private Transacation
Sold & Shipped by Redd Remedies
NEM® (Natural Eggshell Membrane)
The primary ingredient in Joint Health Advanced™ is NEM®. Amazingly, it is one of the only foods on earth that naturally contains such a wide range of building blocks for cartilage and connective tissue. They include key glycosaminoglycans like chondroitin and glucosamine as well as hyaluronic acid, collagen and other essential proteins.
This unique combination of so many joint health nutrients in one natural ingredient, plus the added benefits of the high antioxidant blend, are key factors in Joint Health Advanced's™ fast, 4-10 day results.*
Key benefits include:
- Promotes joint comfort and range of motion within in as little as 4–10 days
- Supports healthy levels of type II collagen, a key protein found in cartilage*
- Supports healthy synovial fluid that lubricates the joints*
- Provides a natural source of type I collagen, glucosamine, chondroitin, hyaluronic acid and calcium – nutrients that are essential for healthy joints*
Boswellin PS® is a next generation Boswellia extract.
The gum resin from the boswellia tree has been used in Indian tradition for over 3,000 years. From that resin, Boswellin PS® was created as a natural water soluble boswellia extract for enhanced joint support.
The difficulty with the standard form of boswellia extract is that they contain a glycoprotein that acts as a barrier, causing them to be poorly absorbed by your bloodstream. Hence, they take longer to work.
Enhanced Boswellin PS® contains Polysal which contributes to its quick action. The water-soluble Polysal initiates and supports healthy and balanced immune function, while the lipid-soluble Boswellic acids help provide its sustained action.
Features of Boswellin PS®:
- 100% Natural
- No Excipients
- No Preservatives
- Enhanced Solubility in Water
- Contains Full-Spectrum Bio-actives from Boswellia Gum
- Standardized and contains both the hydrophilic and lipophilic fractions of Boswellia Gum
Turmeric root extract provides powerful immune system anti-inflammation support and possess powerful antioxidant properties.*
Berry Antioxidants
Blueberries, Cherries and Raspberries possess antioxidant properties important to the joint tissue during the normal aging process.*
We live in a toxic world. Hundreds upon hundreds of toxins can enter our water and food supply and many become part of the plants we consume. As a result, we must consider everything we put in our bodies, including our dietary supplements. After all, dietary supplements contain minerals, fruits, vegetables, herbs, and proteins. If we are going to demand toxin-free foods, we should hold our dietary supplements to the same standards.


Redd Remedies is proud of our comprehensive Purity Promise which, unlike the basic expectations of safety set forth by the FDA, goes well beyond the minimum requirements.
From ingredient selection and verification, to ensuring each dose contains exactly what's on the label, to our extensive finished product testing by industry-leading 3rd party labs, Redd Remedies offers a purity promise that can be trusted.