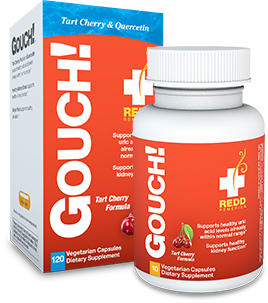 Gouch!™ is our revelatory blend of herbs and antioxidants formulated to fight the torment of excess uric acid.
By drawing upon the knowledge of Traditional Chinese Medicine and marrying it with the principles of modern science, we have created an entirely natural solution to this pain.
This award-winning blend only uses pure 3rd-party-tested ingredients to clear painful excess uric acid, maximize your kidney function, and support your immune system.
Excess uric acid has knocked you off your feet. Gouch!™ is here to get you back up.
Fast and Effective Benefits
REDUCE REDNESS AND SWELLING
The anti-inflammatory properties of our powerful ginger root extract help fight the physical pain that excess uric acid causes.

INCREDIBLY FAST AND EFFECTIVE
Uric acid flare-ups can happen at any time, and need attention, quickly. Gouch!™ users have experienced significant relief in their painful symptoms within 24-48 hours!
THE POWER OF A POUND OF CHERRIES
Chowing down on a bag of cherries gets old, fast. Thanks to our tart cherry extract and quercetin, we bring you the benefits of eating an entire pound of cherries in just a single dose!

NO UNNECESSARY AND DANGEROUS DIURETICS
Uric acid build-up happens when our kidneys are overburdened and undernourished. Why place greater demand on them with a diuretic? Instead we nourish your kidneys with boerhavia root extract and couch grass extract.
KEEP YOUR IMMUNE SYSTEM STRONG
The stress of excess uric acid places a burden on our immune system. We give it the protection it deserves with antioxidants from our tart cherry extract. Our ginger root extract also helps to rejuvenate stagnated blood flow, encouraging your body to deliver the right nutrients to the right places!

2 CAPSULES, TWICE DAILY, FOR 3 DAYS.
FOLLOWING: 2 CAPSULES, ONCE DAILY.
2 CAPSULES, TWICE DAILY, FOR 3 DAYS.
FOLLOWING: 2 CAPSULES, ONCE DAILY.
Bioflavonoid
Quercetin is one of the many helpful bioflavonoids that cherries are jam-packed with! So, why add more when our formula already includes tart cherry? Because we've found that by combining additional quercetin with our tart cherry extract, both of these ingredients become significantly more effective!
Kidney Tonic
This effective herb has been used as a kidney tonic since Ancient Rome! Often prescribed for fighting kidney stones, it has also been approved by the German Commission E Monographs for kidney gravel.
Restrict Uric Acid Production; Bioflavonoids
Ah, cherries! A staple of fighting excess uric acid. These helpful little fruits are packed with bioflavonoids that have the power to inhibit an enzyme called xanthine oxidase… the enzyme responsible for converting purines to uric acid!
Kidney Tonic; Joint Support
Boerhavia is a Rasayana, a classification of herbs that are used to rejuvenate and renew certain body systems. In this case the kidneys. In a body that has been overloaded with uric acid, the kidneys will likely be overexerted and underperforming. Boerhavia delivers the nourishment they need to start performing optimally!
Anti-inflammatory; Rejuvenates Circulation
This has long been used in the practice of Traditional Chinese Medicine. For starters, it's an anti-inflammatory… perfect for fighting those gout "flare-ups! But, more importantly, can help spark stagnated circulation which will help rid the body of excess uric acid as quickly and efficiently as possible! Efficient blood flow leads to efficient nutrient delivery and waste removal.
We know that purchasing a new supplement can be an anxious experience. That's why we make a full purity promise to all of our customers by ensuring every ingredient is non-GMO and undergoes rigorous 3rd-party testing for 500 toxic compounds to insure purity!





The Master Herbalist Behind Gouch!™
We owe much of the success of Gouch! to our Master Herbalist, Stacey Littlefield! She's passionate about natural medicine and a firm believer of utilizing nutritious food to improve overall health.
Employing her background in science and her drive for developing a healthful product, Littlefield helped us launch Redd Remedies in 2003... and we haven't looked back!
As both our Research Director and Product Formulator, Stacey has helped create over 30 products and a staggering 24 of them have received national recognition for their formulation, purity and effectiveness!
In 2015 she was bestowed the title of Master Herbalist after earning a Masters of Science in Herbal Medicine from the American College of Healthcare Sciences in Portland, Oregon.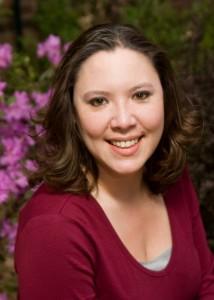 60 DAY MONEY-BACK GUARANTEE

Browse Our Bestsellers
Take a glance at our best-selling products and bundled offerings
FREE SHIPPING ON ALL ORDERS OVER $49 IN THE CONTINENTAL U.S.