Soothing Throat Drops and Syrup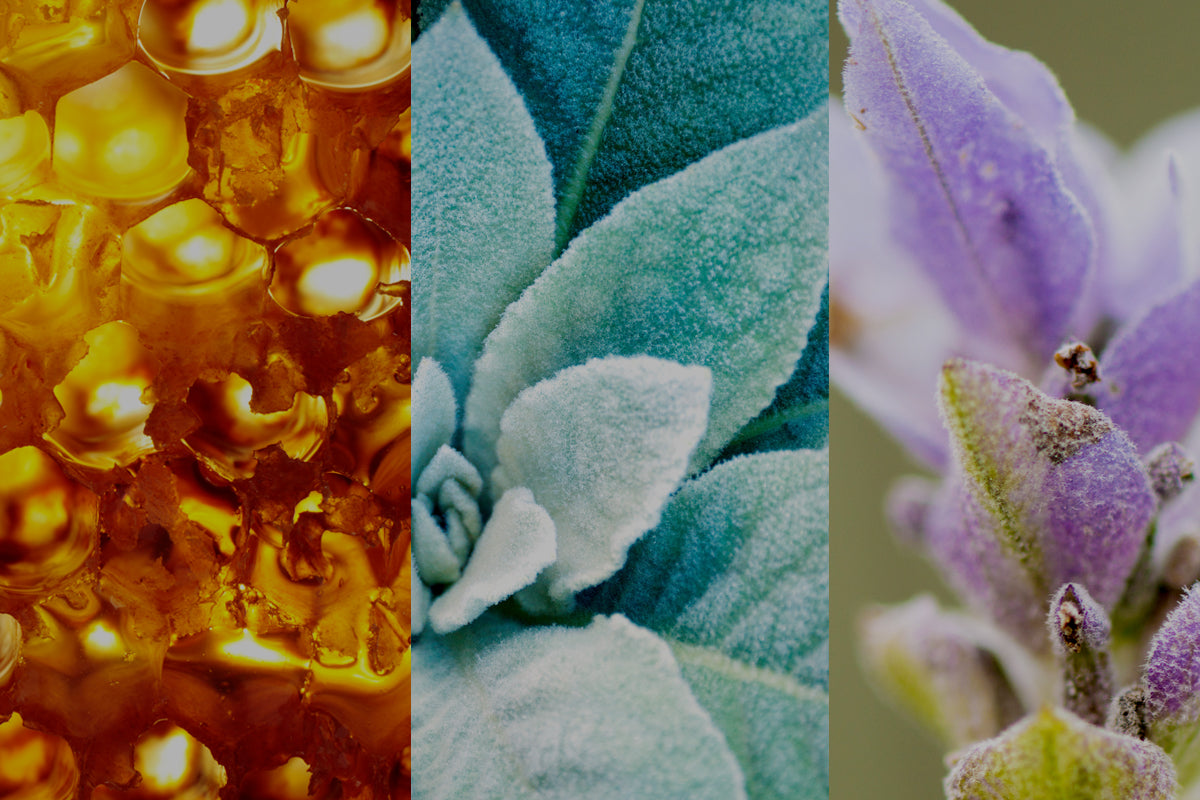 If your throat is irritated by an external irritant or by mucus draining from the sinuses, you want safe, soothing relief. That is what you'll get from our Throat & Bronchial Syrup and our Throat Drops with Pure Essential Oils. Both include only pure, natural ingredients and come in a choice of flavors.
Throat & Bronchial Syrup
The foundation ingredient in our Throat & Bronchial Syrup is raw buckwheat honey. This dark amber, malty tasting honey has been studied by Penn State College of Medicine, looking for alternatives to over-the-counter products that were found to be less than safe for children. Research has confirmed that honey, which has been used traditionally to help soothe throats, is an effective remedy for occasional coughs and throat irritation.
The formula contains a blend of herbal extracts, which were chosen over dry herbs due to their greater strength and effectiveness in this type of liquid product.
Ivy leaf extract (Hedera helix) reduces occasional irritation and supports normal mucus secretions. It has a great safety profile; tests have proven that it is safe for a wide range of ages, from 4 months to 90 years old. Thyme (Thymus vulgaris) was included in Nicholas Culpeper's 17th century Complete Herbal and it has a strong history in folk traditions. It is especially effective in combination with Ivy leaf, creating a synergy that produces pronounced actions within the respiratory tract.
Mullein (Verbascum thapsus) leaves and flowers have been used since ancient civilizations in Greece, Tibet, China and Russia (Click Here for more information). This herb includes mucilage polysaccharides that provide a soothing and protective coating for mucus membranes.
Throat & Bronchial Syrup helps soothe the throat, supports a clear bronchial system, and promotes normal respiratory muscle reactions. This syrup, which contains no sedatives or stimulants, is effective in small doses – ¼ teaspoon for children ages 2-5, ½ teaspoon for ages 6-11, and 1 teaspoon for adults – and can be safely taken as frequently as every two hours. It comes in Berry and Honey flavors.
Throat Drops with Pure Essential Oils
Our Throat Drops deliver soothing herbs, cooling menthol, pure essential oils and great flavors. Whole essential oils contain a complex mix of compounds, many of which work in synergy to deliver powerful results, with as many as 100 compounds in a single essential oil.
Holy basil (Ociumum sanctum) is an Ayurvedic herb used traditionally to support healthy respiratory function, along with other uses (https://blog.reddremedies.com/holy-basil/). Mullein extract is included in our Throat Drop's herbal blend, along with sage (Salvia spp.) extract, to help soothe the throat. Horehound (Marrubium spp.) and ginger root (Zingiber officinale) extracts help promote clear respiratory passages.
The Essential Oil Cooling Blend includes menthol and full-spectrum, pure essential oils to help clear and open airways and soothe the throat. Eucalyptus, rosemary, camphor, spike lavender and pine are combined with menthol for a powerful and effective blend.
As these drops are held in the mouth to dissolve, essential oils move into the sinuses as well as the throat and the respiratory passages, to provide relief from irritation and occasional coughing. They come in three tasty flavors – Berry, Cool Mint, and Sweet Lemon – with non-GMO beet root juice and brown rice syrup to help sweeten the drops.
Both the drops and the syrup are gluten-free and vegetarian.